Discover How Acupuncture Can Be Used To Induce Labor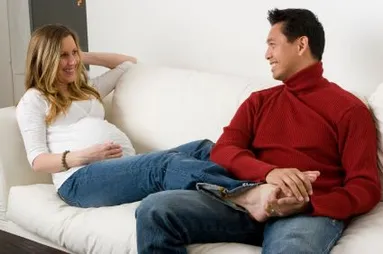 For an expecting mom nearing her due date, it's natural to try and figure out a way to coax that baby out--a way that's natural and safe. Many moms and doctors alike get a little anxious when the due date passes, and with 10% of pregnancies lasting beyond 40 weeks, it's not uncommon.
Recommendations range from taking long walks, to eating spicy foods, to using special herbs and oils. While there is no scientific evidence to support these labor inducing methods, one approach that's becoming more popular is acupuncture. In Asia, acupuncture for labor induction has been used for hundreds of years.
Acupuncture can help you relax, strengthen your energy for when contractions start, and move energy to the right part of your body. It can also stimulate the nervous system, which could cause the uterus to contract.
According to WebMD, a study at the University of North Carolina found that women who got acupuncture were more likely to go into labor without a medical "push." 56 women who were 39 ½ to 41 weeks pregnant were involved in the study. Half received three acupuncture sessions. 70% of the women who received acupuncture went into labor on their own, compared to 50% who received standard medical care. Also, a smaller percentage of acupuncture patients delivered by C-section--17% compared to 39%.
While some medical studies have proven inconclusive, regular acupuncture treatments during the last few weeks of pregnancy can help prepare the body for labor, which can reduce time spent in labor and the amount of medical intervention required.
Call us at (732) 974-7500 or contact us at Sea Girt, NJ Center to learn more about how acupuncture can be used for labor induction.